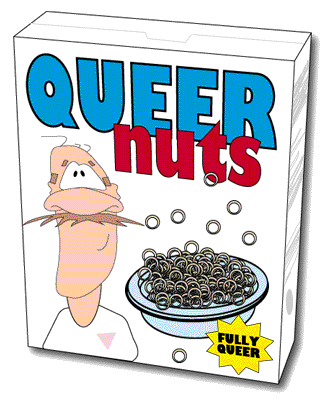 © 1993-6 General Foods Intl
QUEERNUTS!
Are you FULLY GAY, PEOPLE?


Start tomorrow morning with a big gay bowl of QUEERNUTS.
When was the last time you stuffed all kinds of HEARTY OATS and BRAN into your big fat queer face? I'LL BET NEVER.
They're made with 100% ALL-GAY INGREDIENTS AND THEY CRUNCH AND SQUISH AROUND IN YOUR CRAZY CHOMPY QUEER MOUTH LIKE SO MANY OTHER BREAKFASTY MORNING TREATS.


AS LONG AS YOU'RE QUEER, YOU'LL EAT YOUR QUEERNUTS.